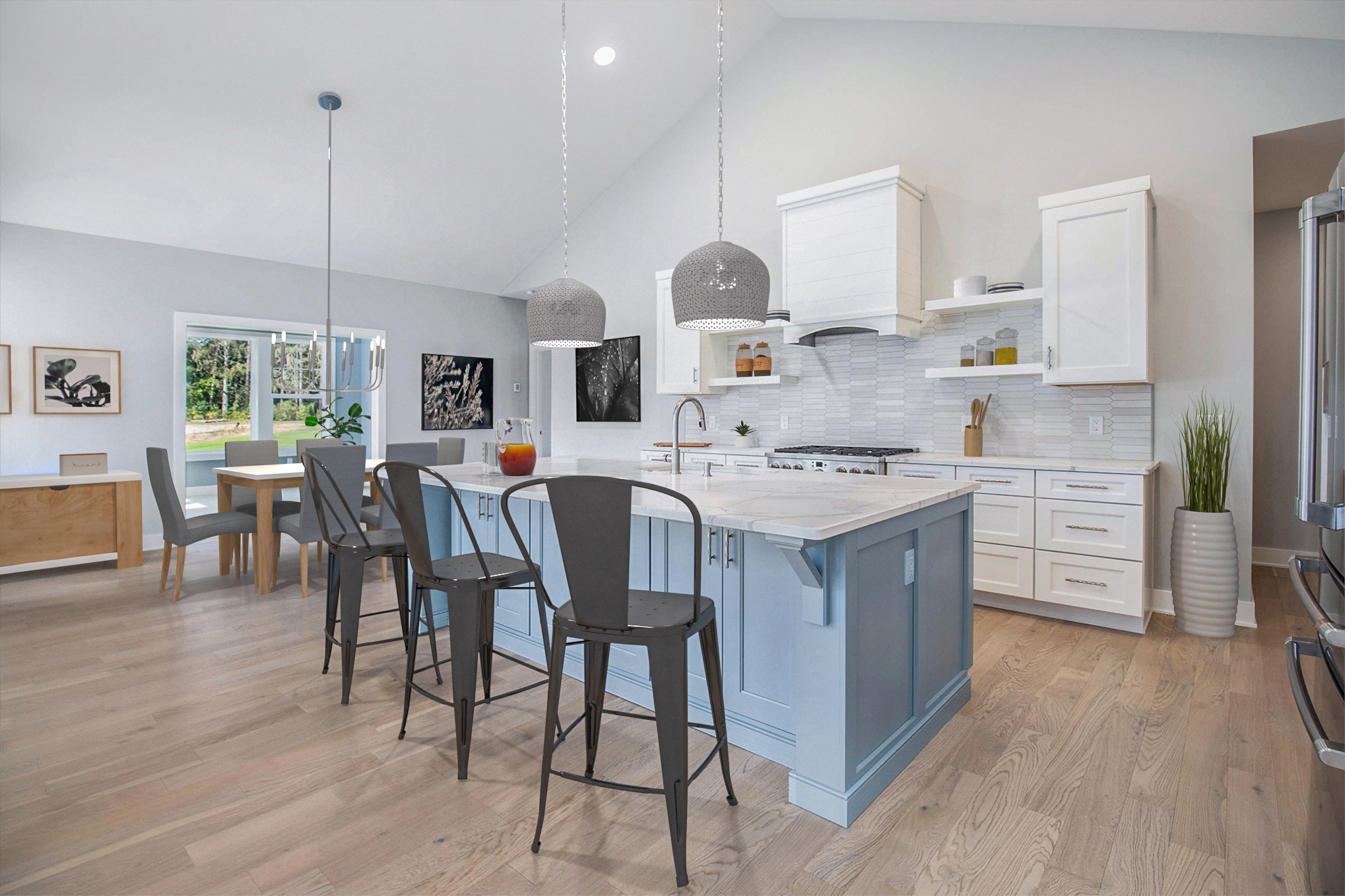 Covenant Delivers the Warmth in Kitchen Design
The heart of any home is the kitchen. As the heart, the kitchen means different things to many people including a welcome center, a gathering place, and a nourishing zone. Covenant Development understands how important this space is, and as a builder of luxury condos in Holland, MI, they focus a lot of attention on kitchen design. In addition, Covenant helps home owners at The Reserve at Lake Macatawa by offering a variety of kitchen focused floor plans and an assortment of style options when designing this space.
Let's explore a few ways that Covenant delivers warmth in kitchen design.
The kitchen remains a focal part of any floor plan.
Because many people prefer an open floor plan, the kitchen is naturally a featured space in the home. The kitchen becomes the center of operations and a place where many of the day's decisions are made. Since most home owners prefer a large island, room to gather, and ample kitchen storage, Covenant Development delivers specious kitchens with large islands in every floor plan. These floor plans also include great storage with plenty of cabinets and a large pantry.
Your kitchen sets the foundational style to your home.
As you design your home, one of the first and obvious spaces to express your style is in the color and décor selections. These choices will become a type of foundation that ultimately directs the overall style in your luxury condo home in Holland, MI.
When looking at décor, you will notice that there is a trend in 2022 for warm neutrals that will continue into 2023. Specifically, this highly desired style and décor trend includes some of the following highlights.
Cabinet colors are shifting away from bright white and cool grays to warmer white and greige in kitchens. There is a mix of different cabinet colors – whether it's different from the island to the wall cabinets or a contrast between the lower and upper cabinets. The island is also becoming a bigger statement piece with contrasting color in a lighter stain or green finish. Some additional colors that are popular in kitchens include painted glacier, gray mist, or olive green with shale or oatmeal stain.
The kitchen countertops on the island are spilling over with a waterfall edge giving a subtle marble block look. The preferred countertop surface option, quartz, provides a variety of looks from concrete to granite or even marble. Condos in Holland, MI built by Covenant Developments, feature the option of ENVI Quartz, one of the most hand-selected, on-trend quartz & porcelain looks. Some of the quartz colors, such as French Lace, Sillaro, and Staccato, provide a rich compliment to the lighter wide plank flooring, and warm painted cabinets.
Backsplashes and hardware continue to add depth to the kitchen. Backsplashes are shifting from the smooth glass to more sophisticated textures.  Some of this texture is seen in the tile surface itself, other tiles feature a beveled edging, and then there are distressed looking tiles. The coordinating on-trend hardware is now a satin brass or matte black with subtle detail and depth to add interest to the overall design.
Covenant Development builds thoughtfully-designed floor plans with the kitchen as the beautiful and stylish heart of the home. These floor plans are found at The Reserve, a waterfront community that features 75 villas and detached, 2-3 bedroom condominium homes in Holland, MI, located on the north side of Lake Macatawa.

Find your new forever home by contacting Covenant Development today to see what's available before this exceptional lakeside community is sold out! Contact Julie Gabala today to start planning your new home and lifestyle at 616-368-9888 or julieg@covdev.com.

Tags: condos for sale in Holland MI, homebuilder in holland mi, new homes for sale holland mi